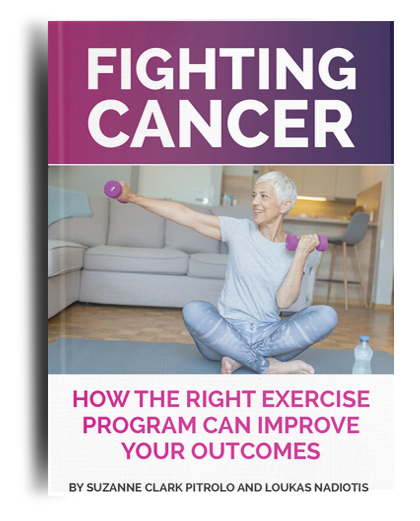 FIGHTING CANCER:
How the right exercise program can improve your outcomes
"*" indicates required fields
Being diagnosed with a form of cancer, or other chronic condition, is a very confronting experience for both the patient and their loved ones. It is natural to be scared and be frustrated by what feels like a loss of control in your life.
As patients are referred from doctor to specialists they often feel powerless. The medical fraternity tends to focus on the disease rather than the person and the actual treatments can make you feel worse.
The good news is you can actually still dictate aspects of your journey in order to improve your quality of life and the outcomes of your treatment.
Suzanne Clark Pitrolo
When you speak of cancer, I know what you are talking about. I know the shock, the fear, the feeling of powerlessness, the loss of what you thought your life was and where it would go, the vulnerability and the change in how people looked at you. I know what the side effects feel like. And I also know that we cancer patients and survivors don't want to be pitied.
My journeys with 3 cancers (breast, colorectal, appendix) all had me searching for something I could do to have an impact on my health and help in my prognosis. At the least, I wanted to feel OK during this time and not feel like an onlooker in my life.
I watched a program about cancer and exercise, and it was "the light". This was something I could do to help me, and to be involved. Trying to access the help to find the appropriate exercise for my battered body was the next challenge. And I couldn't. It didn't seem to exist. So I built it.
Loukas (my physiotherapist son-in-law) and I studied the research, of which there was/
is bucketloads. We took the research and put it into practice, opening the Kaden Centre in 2018. The centre helps over 300 people per year and now we are reaching further with our Home Exercise Platform. We never stop needing exercise and now we have access to exercise for us – people with cancer or chronic conditions and survivors.